girl power through mindless pop music and midriff tops!
One of the skills I'm most proud of having is being able to memorize the lyrics to embarrassing songs with complicated rhyme patterns. When it comes to hidden talents, some people juggle, others know how to shuffle a deck of cards. For me, it's being able to recite "We Didn't Start the Fire," "Shoop," and "My Humps." If it makes you immediately reach for the radio to change the station, chances are it is a song so beloved by me that it has been ingrained into my subconscious for the rest of eternity.
On the very top of his humiliating list of songs is the Spice Girls' "Wannabe." The moment I heard this quintessential pop song, its catchy hook and high-energy spirit trickled from my thirteen-year old ear drums on down to my heart. I would perform it in malls with my friends, thinking I was Tiffany Spice, unashamed of how lighthearted and just plain fun their music was back then. To the delight of my sense of nostalgia, the Spice Girls have announced they're back together! In the next few months, expect a world tour, a documentary, a greatest hits album, and inevitable product tie-ins. I haven't had
this
much spice since the last time I had Indian food! And I haven't made a joke
that
bad since orange you glad I didn't say banana? Anyway, re-spice up your life with a little game of catch-up with the girls, shall we?
we're back, bitches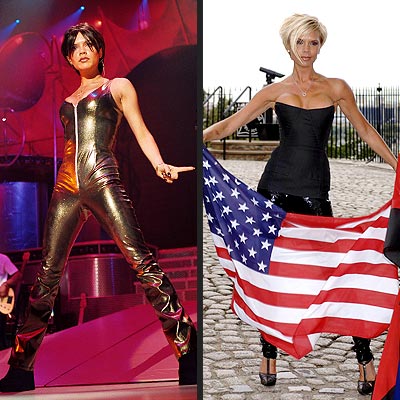 ...and Becks
Victoria Beckham aka "Posh Spice"
When We Left Her
: She was a brunette, last name Adams, boobs were proportionally smaller.
Today She's:
now married to quite possibly the most famous, most beautiful and richest man in the world; her spicerack has grown mysteriously larger as her waist has shrunk into Scarlett O Hara territory, despite the fact that she's given birth thrice in the last decade. She starred in her own reality show special about moving to Los Angeles, shopping, and starting a new hair trend. She hasn't smiled or eaten in the last seven years.
Possible New Nickname:
Posher Spice (since she's even better than you now than she was before).
i don't fit into my leopard pantsuit anymore, stupid baby weight
Mel B aka "Scary Spice"
When We Left Her:
She wore lots of leopard prints and had crazy big hair, which apparently is enough to frighten young children enough to earn the nickname "Scary".
Today She's
: making her way on the talk show circuit discussing her major baby dramz with Eddie Murphy. Yes, Murphy was no Daddy Day Care when it came to taking full responsibility for fathering little Angel Iris Murphy Brown, but in the grand scheme of things, isn't it more painful for a child to grow up with the name of an early 90s Candice Bergman vehicle? Plus, Angel Iris Wonder Years is so much catchier.
Possible New Nickname:
Alimony Spice.
nice and subtle
Gerri Halliwell aka "Ginger Spice"
When We Left Her:
The "sexy" member of a girl group where no one really wore that much clothing to begin with, she decided her sexy status was enough to propel her to a solo career, and she left the group in 1998. She released three solo albums, gave birth to also unfortunately-named-Spice-baby Bluebell Madonna, and became a goodwill ambassador for the UN, visiting several third world countries desperately lacking girl power and basic amenities.
Today She's:
toned down the hair, decided the solo thing wasn't really working out, and rejoined the supergroup that made her famous. She has the only nickname that's a real spice – it was meant to be.
Possible New Nickname:
Parsely, Sage, Rosemary and Thyme Spice (just to make up for all those spiceless years).
baby's all growns up
Emma Bunton aka "Baby Spice"
When We Left Her:
She pretty much fit the baby look – apple cheeks, blonde pigtails, didn't speak much except for the occasional "Girl Power!" during live shows. She's made appearances on British reality programming, like
Strictly Come Dancing
, their version of
Dancing with the Stars
. She was the finale female contestant to be eliminated, and while that's not exactly marrying a famous soccer player or getting knocked up by a hasbeen comedian, that's keepin' busy!
Today She's:
pretty much the same, except she recently gave birth to her own baby. Which reminds me of those Russian dolls where you keep finding smaller and smaller versions of the same thing hidden inside one another. Creepy.
Possible New Nickname:
Toddler Spice (since she's grown up just a little).
i've got talent and bangs, i don't need no freakin' nickname
Mel C aka "Sporty Spice"
When We Left Her:
She was the least popular Mel of the group, and filled in the Spice Girls' unofficial "alternative lifestyle" slot.
Today She's:
got bangs, tattoos, and more than one tracksuit in her closet. Oh, apparently she also released four successful albums and is an extremely successful solo artist in the United Kingdom. But really, if an album drops in England, does it really make a sound?
Possible New Nickname:
Cleans Up Nice Spice (mostly because it rhymes).